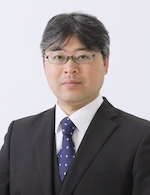 Professor
Department of Computer and Information Sciences,
Tokyo University of Agriculture and Technology
E-mail: t_kondo@cc.tuat.ac.jp
Website: tkondo website
Robotics and Autonomous Systems (Elsevier), Associate Editor
Google scholar: http://scholar.google.com/citations?hl=en&user=oWQTxM4AAAAJ




Toshiyuki Kondo is a professor in Department of Computer, Information and Communication Sciences (This site is Japanese) at Tokyo University of Agriculture and Technology, Japan. He received his Ph.D degree in computer science and engineering in Sep. 1999 from Nagoya University, Japan, and received his M.Sci degree in information electronics in Mar.,1997 from the University, respectively.
From Apr.,1997 to Mar.,2000 he was a Postdoctal Fellow of the Japan Society for the Promotion of Science. From Nov.,1999 to Mar.,2000 he was a Visiting Researcher in the Artificial Intelligence Laboratory at University of California San Diego (UCSD) based on the fellowship.
From Apr.,2000 to Mar.,2006 he was a research assistant in the Department of Computational Intelligence and Systems Science at the Tokyo Institute of Technology.
From May, 2019 to Dec. 2020 he has been a visiting professor in the Scool of Biological Sciences, University of Reading, UK.
His current research interests are human motor learning, BCI/robotic neuro-rehabilitation, cybernetic interface, and biologically-inspired adaptive learning systems.



---
yesterday:1 today:1 total:3553